After an economic slump lasting years, Dongguan – the home of 'Made in China' – is reinventing itself as a robotics base
This month Dongguan, in the heart of the Pearl River Delta economic zone of south China, is transformed from a city of migrants into a city of ghosts.
The Chinese New Year holiday marks the start of the biggest annual human migration on the planet. During the Spring Festival travel rush – or Chunyunin Mandarin – which runs from 1 February to 12 March 2018, it's estimated that Chinese returning to their home towns for family reunions will make 2.98 billion trips. According to China's National Development and Reform Commission, in total, 2.48 billion road trips, 390 million rail trips, 65 million air trips and 46 million boat trips are expected to be made over the 40-day period. Nowhere is this large-scale migration likely to be more evident than in Dongguan, an industrial city in central Guangdong province.
Dongguan is sometimes called "the world's factory" due to its prosperous manufacturing industry, and some 75% of its 8.34m population are migrant workers who return home during the festive period, leaving the city nearly deserted. According to Qihoo 360 Technology, a big data and software giant, last year Dongguan was the country's most empty city during the holiday. The company's "ghost city index", compiled by tracking the locations of its users during the Chinese New Year travel rush, saw Dongguan ranked first, as almost 70% of its population left town during the holiday.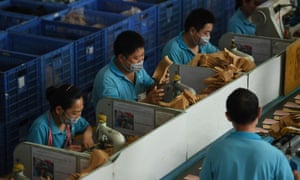 From the mid-1980s, Dongguan was China's leading export and manufacturing base, a hothouse for churning out cheap clothes, toys and shoes bearing the ubiquitous "Made in China" label. The city was hit hard when exports dried up in the wake of the global financial crisis in 2008, and suffered a slump. Today, with the help of economic input from various levels of government, it is transitioning into a smart manufacturing base focused on producing hi-tech robotics and automated equipment, in the hope that the boom times will return.